Exhibitor Registration
Come and exhibit with California's greatest association for Activities Directors. It can only benefit you, your company, and your profits! You will have direct contact with over 1300 convention attendees who are the decision makers and buyers of YOUR products and services! You will build long lasting relationships with schools from all over California, and expand those relationships to schools from out of state! Plus you will have the opportunity to get a discount on your CADA 2019 booth by entering our booth-decorating contest. Who can afford to miss out on this opportunity? Download the 2016 Exhibitor Prospectus for more information.
Registration
REGISTRATION OPENS in September OF 2017!

ATTENTION EXHIBITORS - AVOID SCAMS: The only approved vendors by CADA are GES, Town & Country Resort, & 1st Sales Lead Retrieval. Any other vendors contacting you to book rooms are fraud. We will not directly contact you to book your room!
Download the Booth Setup Guidelines



Prices & Details
MEMBER PRICES:
After January 1: $1075/1st booth and then $1025 for each additional booth
Not a member? Check out Affiliate Membership information - join now and save on your booth!
NON-MEMBER PRICES:
After January 1: $1700/booth

WHAT IS INCLUDED:
Per each booth reserved you will also get:
1 - 6' draped table
2 chairs
1 wastebasket
2 representative name badges ($35 additional charge for more reps)
7" x 44" sign ordered by GES Exposition Services
1 - 500 watt electrical outlet (for booths sold up to 30 days prior to the convention, but must be indicated on the registration form.)
Booth Reps receive entrance to all conference sessions, workshops, and the Wednesday & Thursday night social events.
Exhibit area is also fully carpeted

Advertise in the CADA Coupon Book:
Want a way to gain more exposure at the CADA Convention? Everyone loves coupons, customers love them because they get a discount, and companies love them because it brings business! As a CADA Exhibitor you have the opportunity to publish your coupon in the CADA Coupon Book, which will be printed in the back of the conference program book and put in every attendee's bag. You design it, you come up with the deal, and we will print! All payment and graphics must be submitted no later than January 2017.
Download the CADA Coupon Book Registration Form Now!


Exhibit Schedule & Show Times
Check back for more details!



Lead Retrieval Services
LEAD RETRIEVAL SERVICES PROVIDED BY 1stSALES:
See what past exhibitors have said about 1st Sales
Click here to order Lead Retrieval Services
Frequently Asked Questions (FAQ)


Expo Services
GES (Global Exposition Specialists) is our official decorator and dryage company. They will have an expo services desk located in the exhibit hall. Please direct all booth setup questions to their customer service personnel. (800.475.2098). Click Here for the Expo Kit.


Contacts
Registration, Exhibits & General Questions
CADA Central - info@cada1.org
tel: 831.464.4891
Booth Decorating Contest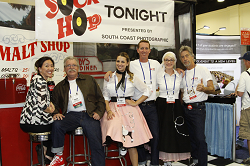 Booth Winners 2016
Mutiple Booth Category
1st Place: Herff Jones
Runner Up: Level Up
Runner Up: SOS Entertainment

Single Booth Category
1st Place: South Coast Photographic
Runner Up: Raiser's Edge
Runner Up: CastlePark
2018 Floorplan & Sponsor Booth Selection Order