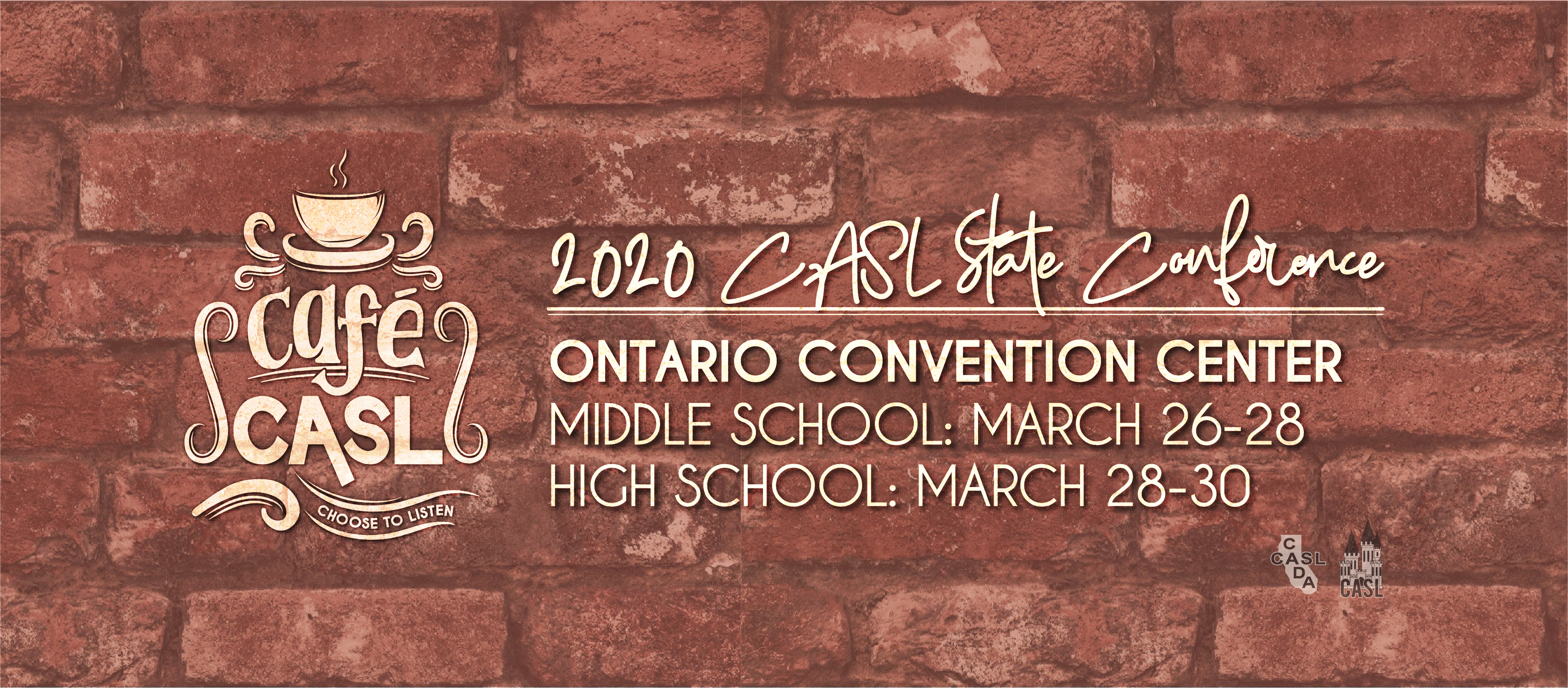 CASL Conference has been cancelled
click here for official letter
As you have seen in previous correspondence, the 2020 CASL State Conference has been canceled in response to the ongoing global concerns around COVID-19. CADA/CASL will be issuing refunds to all conference attendees due to the cancellation. Below is a link to a form you will need to fill out to ensure proper refund. We will begin processing refunds as soon as the form response is received.
Refund Request Form
If you have questions about the refund process please contact CADA Central at 831.464.4891 or email
info@cada1.org
.
---
Pricing
Student Prices*
4 to a room = $395 each
3 to a room = $420 each
2 to a room = $470 each
1 to a room = $570 each
Advisor Prices*
2 to a room = $370 each
1 to a room = $495 each
*Prices go up $50 after Jan 31, 2020
---
POLICIES

CADA Membership
You must be a current CADA/CASL member to attend the CASL Conference. If you or someone at your school are not currently a member of CADA/CASL, please visit www.CADA1.org/joincada to download the membership application. Complete and submit the form with payment at the same time as your CASL Conference Registration. Attendees located outside the state of California do not need to be CADA/CASL members to attend. For registration edits, please call or email CADA Central.
Registration Policy
Registration is accepted on a space available basis only. We sell out, so register early to guarantee your spot. Spots are guaranteed once completed registration packets and payment area submitted.
Delegation
A delegation is a delegate or group of delegates under the supervision of one (or more) advisor associated with a single delegation name consisting of one or more schools.
Cancellations & Refund Policy
Refunds may be given with written notice received no later than February 28, 2020. There will be a $50 administrative fee per person deducted from your refund. Please send cancellation requests to info@cada1.org.
Substitution Policies
Substitutions will only be accepted in writing with a replacement delegate and a $35 administration fee. You must provide a delegate of the same gender to replace and he/she must provide all completed and signed forms. Replacement delegate forms must be received by March 13, 2020. You are responsible for finding your own replacement delegate. Please send substitution requests to info@cada1.org.
Attendee Max
There is a maximum of 36 students per school allowed to register.
Rooming Policies
This is a residence program only. All participants are expected to stay in the conference hotel with the rest of the delegates. No "drive in" delegates. There is no discount for students/advisors not staying at the hotel.
If students are rooming two to a room, the room layout may be a king bed only. Students rooming three to a room, the room layout may be a king bed with a roll-a-way.
We will attempt to room advisors near to their students, however, it is possible that advisors may not be roomed next to their students.
The only circumstance under which an adult and student may share a room is if they are parent and child. No exceptions.
Liability Policy: ASSUMPTION OF RISKS: By registering for this event, I hereby assume all of the risks of participating in all activities at CADA/CASL Events, including but not limited to, any risks that may arise from the negligence or carelessness of CADA/CASL, their subsidiaries, affiliates, directors, officers, employees, partners, contractors, agents, representatives, volunteers, successors and assigns (collectively, the "Host") and/or from dangerous or defective equipment or property owned, maintained, operated or controlled by the Host.
(A) I WAIVE, RELEASE, AND DISCHARGE the Host from any and all liability, including but not limited to, liability arising from the negligence of the Host or myself, for my death, disability, personal injury, property damage, property theft, or any other damage or actions of any kind which may affect or impact me in any way arising from the Activity.
(B) I INDEMNIFY, HOLD HARMLESS, AND PROMISE NOT TO SUE the Host from any and all liabilities or claims made as a result of my participation in the Activity, whether caused by the negligence of the Host, myself, or otherwise.
---
2020 CASL Conference Info
Brochure
Click here for more details.
Workshops
We offer 25 workshops with a wide range of choices. Click here for the list of workshops.
Meet the Pros
We will be offering over 50 creative presentations on specific ideas which student leaders can immediately take back to their schools to implement, such as Community Service, Organization, Teambuilding, Random Acts of Kindness, Spirit Ideas and much more! YOU can even apply to present! Applications will be out November of 2019 and are due February 3, 2020. For more information visit caslboard.com/meet-the-pros.
Elections
YOU elect the State Board Leaders for the following year. This process is also a learning experience as to see different ways to conduct elections and election rallies at your school by actually doing it for our State Board. You are the voice for your school as you review the candidates, hear their platforms, and make the decision as to whom you would like to represent YOU, the student leader, the next year. Applications will be out November of 2019 and are due February 3, 2020. For more information visit caslboard.com/elections.
Sample Schedule
Download the sample schedule to get an idea of when to arrive and leave.
Outstanding Leadership Program Award
Want to Apply for the outstanding Leadership Award? Click here for Application!
Extend Your Trip!
Exclusive for CASL Schools participating in the conference, USA Student Travel has provided a pre or post Disneyland extended option for both Middle and High Schools. Don't miss out on an extra special SoCal celebration. Click here for more details.
---
What is CASL?
Download the CASL Brochure (PDF) or Watch the 2018 CASL recap video Now!
CASL FAQ's
Click here for answers to all your CASL Conference questions
Meet the Speakers
Find out more about who is speaking at the CASL Conference!
additional resources