Bob Burton Spirit Award
The Bob Burton Spirit Award is presented to a person who makes SPIRIT WORK, who makes a positive difference and who emphasizes inclusion with all students and members. The nominee must be a CADA member, individual or vendor. The award is given through the area in which the nominee maintains business or membership. The nominee cannot be a current council member and will be given to one person, not to teams, partners or groups
2023 Bob Burton Award Recipients
---
AREA A: Karalee ruelas, hughson High School
Karalee Ruelas has been an English teacher at Hughson High School for 22 years. During her time at Hughson High, Karalee has also been the Renaissance Coordinator for the last 19 years, the PHAST (Promoting Health and Slamming Tobacco) club advisor for the last 17 years, the Mock Trial advisor for the last 4 years, and she has been the Director of Activities for the past 3 years. Karalee has a passion for working with students and creating unique, special, and memorable events for the entire student body. As Director of Activities, Karalee tries to include all social groups, allowing them to see themselves reflected in all activities created. She challenges her leadership students to open their imaginations and hearts and concentrate on creating an environment that makes people want to be a part of, as well as feel included, in the school. In everything her leadership group plans, they think of these six words (Diversity, Inclusion, Belonging, Dream, Believe, Achieve) and how these words drive and contribute to the inclusivity and spirit of each event planned, thus positively benefiting the school culture as a whole.

Area b: jerell maneja, milpitas High School
Jerell Maneja has served as the Milpitas HS Activities Director for four years. In order to shift the culture and climate as his school, he started by transforming the culture of the MHS Student Leadership program. He trained the students to address campus issues of social isolation, struggling mental health, and low school engagement. He started by having the leadership group establish a new organizational mantra, "Embraced as Individuals, Together as Trojans". By utilizing UDL models and OKRs, they have increased programming focused on cultural inclusivity, student mental wellness, supporting unduplicated populations, expanding their work to the broader community, staff support, and creating more student belonging and connectedness. This has led to higher levels of campus engagement, especially in social media followers and interactions (IG: @mhstrojans), record levels in event attendance exceeding pre-pandemic levels (including doubling homecoming dance attendance to 1500 students), highest student club roster, increased student election candidates, and highest enrollment in Leadership that more closely reflects the demographic of the school.
AREA C: benjamin cummings, golden west high School
Every student in Benjamin Cummings activities class knows the words "Do Good Things. Be Good People. Make Good Choices." As the Activities Director Ben has used these words to guide himself, and his student leaders as they take on the challenges of building a better Golden West High School. During his tenure Ben has eliminated barriers to the Student Leadership class in order to better represent the student body he serves, and to encourage students to better use their voice to affect change on their campus. During Covid Ben used his platform to develop social emotional check-ins with students to remove the inaccessibility to human connection that so many of us felt during that time, and to reach out to students in need. Ben also worked during this time to pass the first LGBTQ+ Pride Month Proclamation in his school district by partnering with students from the local LGBTQ+ Resource Center. One of Ben's favorite parts of being an activities director has been working with his fellow Area C Activities Directors to create the Thursday Night Throwdown, a series of competitions that were held throughout the year to encourage student participation in events. Since then Ben has worked with CADA Area C to develop live Throwdown events and share this activity across the state. Ben also wants to acknowledge that the reason he gets to wake up every day excited about work is his students who inspire him, help him to grow, and challenge him to be a better person.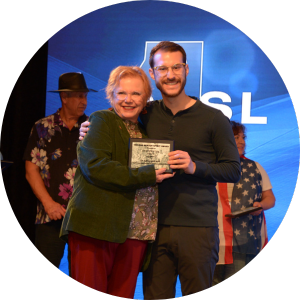 AREA D:

steven piÑa, monterey High School
Steven Piña is in his second year as Activities Director at his alma mater, Monterey High School. Steven empowers his student leaders to "Lead with Intention" and have purpose behind every event that takes place on campus. He attributes much of his success this year to the power of his ASB Executive Officer team and how well they work together. He and his ASB Officers meet weekly to discuss what needs to be done and how to accomplish it. Monterey High has seen a resurgence of Spirit this year because his student leaders believe in themselves to create memorable events like this year's highly attended Battle of the Bay Night Rally. He recognizes the importance of communication and utilizes every form of media possible to promote and celebrate these activities. He added a new communication channel this year by helping his student leaders to develop a video production team which works extremely hard to create weekly video announcements that highlight everything happening on campus. Monterey High is an incredibly diverse school and his student leaders work hard to celebrate the diversity and highlight all groups on campus. The students have created strong partnerships with clubs and academies to create co-sponsored events like their annual National Coming Out Day Celebration and various arts fairs. As a former ASB student at Monterey High, Steven is incredibly proud of the work his students have done this year to increase school spirit and create a more fun and welcoming campus for everyone.
AREA E: Joy glaspy, las palmas middle School
Joy Glaspy has been with Covina Valley Unified School District and Las Palmas Middle School since 2000, serving in the role as an SAI math teacher. Prior to that, she served as a paraprofessional at Northview High School, her feeder school, for two years. Along with teaching, she serves as the Las Palmas Renaissance Coordinator and supports and celebrates student achievement and student character. Specifically, she supports students with Las Palmas PRIDE Cards, SOM Lunches, OC Club days, REN Room Service, Outstanding Character Celebrations, Santa's Bag, Best Buddies, as well as other campus celebrations that promote good character and positive school culture. Everyday, Joy Glaspy makes a difference in the life of her students, staffulty, and the overall Las Palmas community. On an exciting note, she was just awarded C-VUSD's 2023-2024 Teacher of the Year! She brings the SPIRIT and JOY to all activities and events on her campus.
AREA F: eron campuzano, el dorado High School
For 23 years, Eron Campuzano ("Mr. C") has never "slept." In his ten years as a high school English teacher he provided a classroom for students to laugh, celebrate, and grow into individuals. For the past 13 years, as an activities director, Eron has built the asb program and the community at El Dorado High School into a thriving and exciting world where SPIRIT NEVER SLEEPS. EDHS has become an innovative and transformational campus in the world of activities. Mr. C's students are challenged to lead by example and build positive school culture at every turn. The Golden Hawk students are the foundation for black & gold pride everyday. Eron has served on the CADA Area F council, is the current vice-president of the Orange County Leadership Association, and in 2017-18 Eron was recognized by the Placentia Yorba Linda Unified School District as Manager of the Year. Mr. C always says, "Spirit might get some rest, but Spirit Never Sleeps!"
AREA G: heather weiner, escondido High School
Heather Weiner has served as the ASB Advisor at Escondido High School for 17 years. Heather believes that all students have unique talents and skills that can be used to have a positive impact on their school and community. Leading events such as Club Rush, Homecoming, Pep Rallies, Prom, and Senior Activities is special to her because it provides her with the opportunity to help students create meaningful and lasting high school memories. Hosting Canned Food Drives with the Salvation Army and Blood Drives with the American Red Cross and the San Diego Blood Bank allows students to engage in civic responsibility and serve their community. Dr. Martin Luther King, Jr. said, "everybody can be great because anybody can serve." Helping students to believe in their "greatness" and their ability to make a positive difference in the world around them makes being an ASB Advisor an honor and privilege. Heather would like to thank EHS for entrusting her in this role as a new teacher, and she would also like to thank her family ASB: Aubrey, Scott, and Brooklyn for their support which makes everything possible.
AREA H: jimmy gleich, bishop gorman catholic High School
Jimmy Gleich has been the Director of Student Activities at Bishop Gorman in Las Vegas, NV for 6 years. And is in his 15th year in activities serving at two schools previously in Reno, NV. Jimmy is also a graduate of Bishop Gorman and that makes it even more of a labor of love for him. Jimmy is an active member of the Area H Council and the Nevada Association of Students Councils, winning the Nevada advisor of the year award in 2016. In 2017 he was a finalist for the national advisor of the year. Jimmy has served as a member of the CADA summer camps staff as well. At Bishop Gorman, Jimmy tries to create an environment of fun and respect while running well over 100 student centered events each year. His favorite event is the yearly winter wishes week where he spends an entire week of school granting hundreds of wishes for his student body. He does all this while also serving as an assistant coach of the boys varsity basketball team. Jimmy loves what he does, and goes to school everyday with a smile on his face and the goal to put a smile on everyone else's too.
---
Past Bob Burton Award Recipients
AREA A

AREA B

AREA C

2023
Karalee Ruelas
Jerell Maneja
Benjamin Cummings
2022
John Thompson
Hollie Campos
Hasmik Khalachyan-Canas
2021
Melissa Maher
Meg Walsh
Zach Stepp
2020
Kristin Patten
Nichole McGowan Pickett
Nyrie Karkazian
2019
Stacie Martin
Ben Breazeale
Larry Armstrong
2018
Season Lozano
Laura Saldana
Cassie Ortiz
2017
Lori Heintz
Helen Paris
Teresa Hutson
2016
Verne Johnson
Jacob Headley
Shelly Henderson
2015
Kim Bair
Jessica Holman
Ronnie Scott

2014

Jessica Banchieri
Eugene Wing
Stephen Amundson

2013

Lisa Retnolds
Sara Catalli
Renee DeCanio

2012

Jeff Burghardt
Glenna Wurm-Hayenga
Brooke Slayton

2011

Terry Barker
Kim Kuczon
Judy Fortenberry

2010

Ted Wimberg
Sandi Martin
Julie Peterson

2009

Tamara Givens
Debra LaPrath
Howard Zinn

AREA D

AREA E

AREA F

2023
Steven Piña
Joy Glaspy
Eron Campuzano
2022
Sky Becker
Jessica Owen
Shannon Kush
2021
Jim Johnson
Paul Dols
Tami Sciacca
2020
Stacy Picciuto
Tim Hall
David Vollmar
2019
Nyssa Baca
Michelle Chiotti
Erin Andrade
2018
Adrian Salazar
Paula Tezak
Tara Fry
2017
Toriann Garner
Celia Collins
Ami Sandler
2016
Lori Lowensen
Fran Whitney
Scott Mendelson
2015
Kelly DeBernardi
Jenn Childers
Cathy Leseberg

2014

Melanie Lindsey
Mike Motherspaw
Kelli Cooper

2013

Peaches MacKenzie
Scott Cavanias
Sharon Tavaglione

2012

Barbara Johnson
Melanie Wong
Richard McAlinidin

2011

Lisa Avery
Todd Arrowsmith
Heidi Dunne

2010

Craig Combs
Dave Olbright
Colleen Hayashi

2009

Linda Frye
Kyle Svoboda
Linda Zeigler

AREA G

AREA H

2023
Heather Weiner
Jimmy Gleich
2022
Brian Gallo
Le Ann Straehle
2021
Shannon Parker
Sara Nilles
2020
Jeremy Hersch
Kristin Grimm
2019
Deana Garcia
Al Hopgood
2018
Janice Teixeira
Darryl Andrews
2017
Ruben Martinez
Sandy Ginger
2016
Sanford M. Carvajal
2015
Brandi Friend

2014

Joe Gizzo

2013

Kelcie Butcher

2012

Rob Keillor

2011

Doug Roselli

2010

John Schroeder

2009

Suzanne McKibbin