Camp Registration (2020 Recordings)
RegistER NOW TO access 2020
virtual

Leadership Camp RECORDINGS & CONTENT!

Access content from the CADA/CASL Virtual Summer Leadership Camp program. Registration now open! Access is per individual. Once you've registered, you will receive an e-mail receipt from CADA Central with instructions. Access will be set-up weekdays by 5:00pm once payment has been received. Access will be available through May 28, 2021.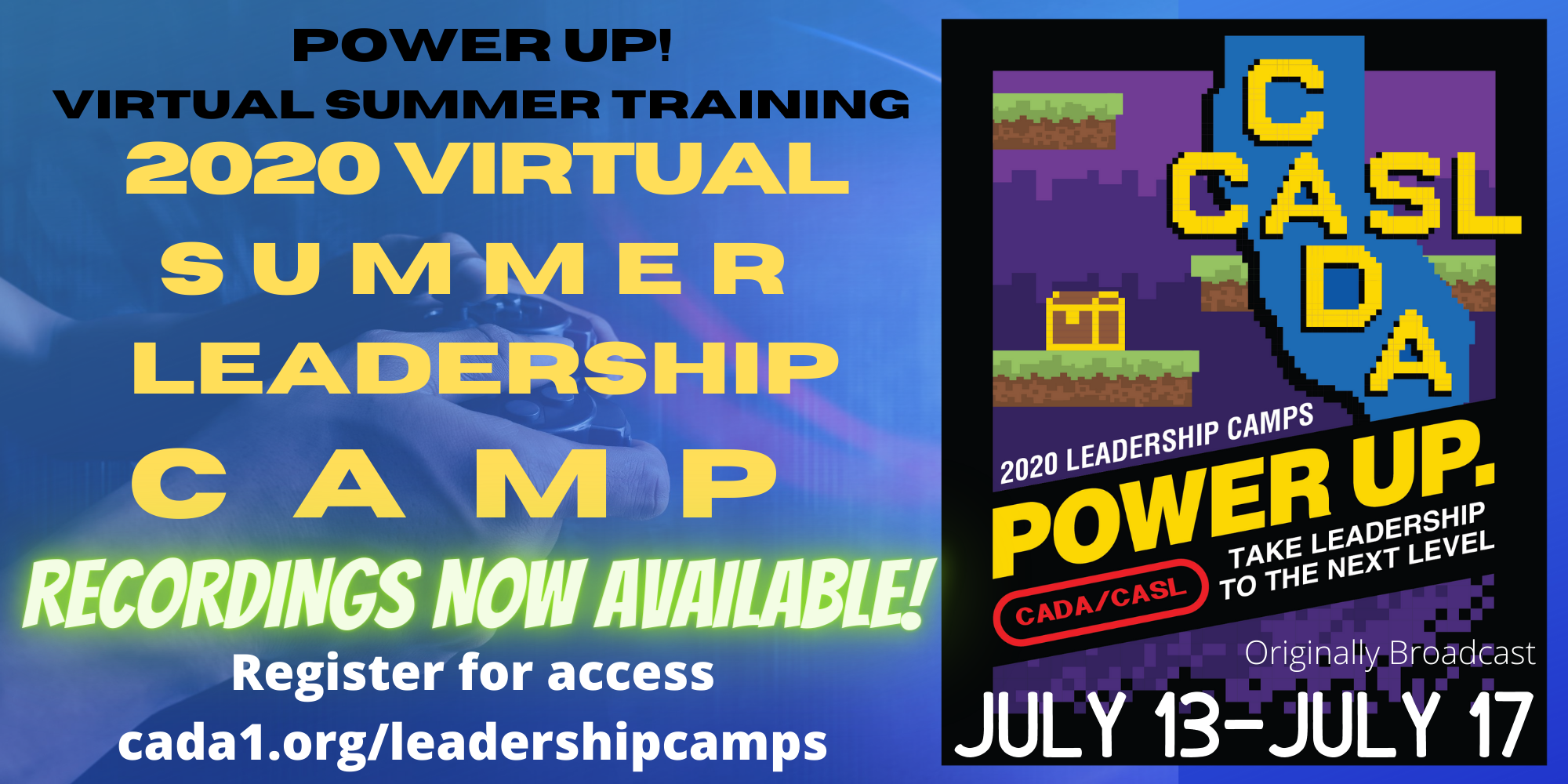 ---
REGISTRATION INFORMATION
Register online through CADA Central. Access is available per individual registered. Please make sure your Accounting Office has our updated address to prevent delays or missed registrations:
CADA Central: Camp Registration
3121 Park Avenue, Suite C
Soquel, CA 95073
Please delete all other former addresses, including Santa Cruz & Woodland locations.
For any registration edits, please call/text (831-464-4891) or email (info@cada1.org) CADA Central.
---
VIRTUAL LEADERSHIP CAMP
Purchase access to recorded content
and other resources!
Originally held July 13-17, 2020
Middle & High School

access to 2020 VIRTUAL CAMP content

FIRST ADVISOR LOG-IN
$150
EACH ADDITIONAL STUDENT OR ADVISOR LOG-IN
$100
Access to the 2020 Virtual CADA Camp event, includes:
All available recordings with over 35 hours of content (see below)
Advisors gain access to the Advisor Google Drive folder with lessons and other resources, plus recordings of the Advisor Council sessions with discussions about the upcoming school year.
Camp Links, including resources developed by camp councils for the coming year.
Contact information for speakers and camp staff
Recorded content includes:
Keynote addresses from Joe Beckman, Dillon Mendes, and Lori L. Hayes
Curriculum Lessons focused on communication, collaboration, and creativity
High School Officer training sessions (including ASB Presidents, ASB Vice Presidents, Secretaries, Senior Class Presidents & VPs, Non-Senior Class Presidents & VPs)
Middle School Officer training sessions (including Executive Officers and General Leadership)
Panel Discussion: The Student Leader's Role in Creating Equity on Campus featuring student leaders and educators discussing this important topic
How to Train Your Leadership Team session with Scott Backovich
Student created Camp Council Projects which can serve as models for your school in the fall or are full of ideas

High School Virtual Rally
Middle School Virtual Rally
Virtual Talent Show
Virtual Recognition
Self-Care & Wellness
CADA Camp Slam!
End of Year Celebration/Yearbook
Daily Large Group Virtual Activities

Twenty-one workshop sessions

Empathy and Open-Mindedness to eliminate stereotypes
Mindfulness
Online fact-checking and safety
Self-confidence
Level up social media
Virtual recognition
Connect with freshman and senior classes
Activities for any budget
Use technology to your advantage
Virtual clubs
Community service
Examine smaller acts of leadership
Staff involvement
Gratitude
Homecoming in a virtual world
Athletic recognition
Resilience and personal growth
Equity on campus
Mental health and digital wellness
Week of Welcome virtually
Digitize your organization

ADVISOR-ONLY content includes:

"How Do We Meet the Challenge of Virtual Activities?" Discussion
Equity vs. Equality presentation plus Q&A with Tei Street
"Training Your Leaders" advisor presentation by Scott Backovich/ENVOLVE Schools
SWAP/Brainstorm: Large Scale Events
SWAP/Brainstorm: Fundraising
Flipgrid Tutorial
Social Emotional Learning/Relationships-Based School Presentation
Resource Share: Pear Deck, Nearpod, EdPuzzle, Jamboard, Minga
---
SUMMER 2021 CAMPS
Check back in January for information!
Santa Clara University

June 2021 TBD
Middle & High School camp

Registration

Opens in Jan 2021
UC Santa Barbara

JULY 2021 TBD
HIGH SCHOOL CAMP 1

Registration

Opens in Jan 2021

JULY 2021 TBD
HIGH SCHOOL CAMP 2

Registration

Opens in Jan 2021

JULY 2021 TBD
HIGH SCHOOL CAMP 3

Registration

Opens in Jan 2021

JULY 2021 TBD
MIDDLE SCHOOL CAMP

Registration

Opens in Jan 2021
---
2021 PRICING
To receive pricing at each tier, amount must be paid in full by stated date.
UCSB Middle School Rates

Student (Per Student)
Advisor (Per Student)
Early Bird
TBD
$450
Double Occupancy
$420
Regular
TBD
$500
Single Occupancy*
$520
Late
TBD
$540

UCSB High School &

SCU Middle/High School Rates

Student (Per Student)
Advisor (Per Student)
Early Bird
TBD
$510
Double Occupancy
$470
Regular
TBD
$560
Single Occupancy*
$620
Late
TBD
$600
UCSB Early Arrival Housing Only: $45/person
UCSB GOLETA Train Station Shuttle: $10/person
Camps fill up fast! Register early to secure your spots. Registration is not guaranteed until payment is received. If registering by check, make sure the invoice/confirmation email is included with your payment.
Advisors are assigned two-to-a-room. Single occupancy, *space Permitting. If single advisor rooms are no longer available, the difference rate will be refunded. For double occupancy, if you're attending alone, you can request your roommate, or we will pair you with another advisor.
---
Questions
CADA Central
831.464.4891
info@cada1.org