March 1-4, 2023
Town & Country Resort
San Diego, CA
---
SOLD OUT!
Download the Booth Setup Guidelines terms & conditions

booth Prices
Member First Booth
$1,175
Member Additional Booths
$1,125
Non-Member Booths
$1800
$100 Late fee/booth if booked after December 31, 2022

Not a member? Check out Affiliate Membership information.
Fee is based on Sales to CA Schools per year.
---
WHAT IS INCLUDED with your booth
Carpeted 8' x 10' x 8' foot tall fully draped booth
One 6' table, 2 chairs, wastebasket, & ID Sign
Two booth representatives per booth
One 500-watt electrical outlet will be provided for booths sold up to 30 days prior to the convention
Access to an electronic list of attendees before & after the conference excluding email
Full company contact information listed on the Virtual Floorplan on our website for attendees to preview prior to arriving at the conference
Discount opportunities for winning the booth decorating contest
Access to social events, all workshops & sessions
---
PAYMENT POLICY
Your booth(s) will not be booked until full payment is received. All funds must be received 30 days after date of registration. Any registrations with unpaid balances after 30 days will be cancelled and you will need to re-register.
---
Exhibit Schedule & Show Times
Sample Schedule
WEDNESDAY
1:00pm – 6:00pm: Exhibitor Registration/Exhibitor Setup
THURSDAY
8:00am – 11:00am: Continue Registration & Setup
11:30am – 12:30pm: New to Convention Attendees
12:30pm – 2:30pm: All Attendees
6:00pm – 9:00pm: All Attendees (Dinner Served in the Hall)
Friday
9:30am – 11:30am: All Attendees
11:31am Teardown

Schedule subject to change
---
CADA APPROVED VENDORS
We know you are receiving tons of marketing emails for email lists, hotel rooms, convention services, etc. We want to remind everyone of our CADA Approved Vendors:
TotalExpo, Inc - Expo Services
1st Sales - Lead Retrieval Services
Town & Country, Courtyard Marriott, Best Western 7 Seas, Legacy Hotel & Handlery Hotel - Contracted hotels (No hotel will reach out to you directly to book rooms.)
Any other companies trying to sale you hotel rooms, attendee lists, or other services should be handled with caution and may be a scam. Feel free to reach out to us before conducting business with any of these companies to ensure they are an approved vendor.
---
Lead Retrieval Services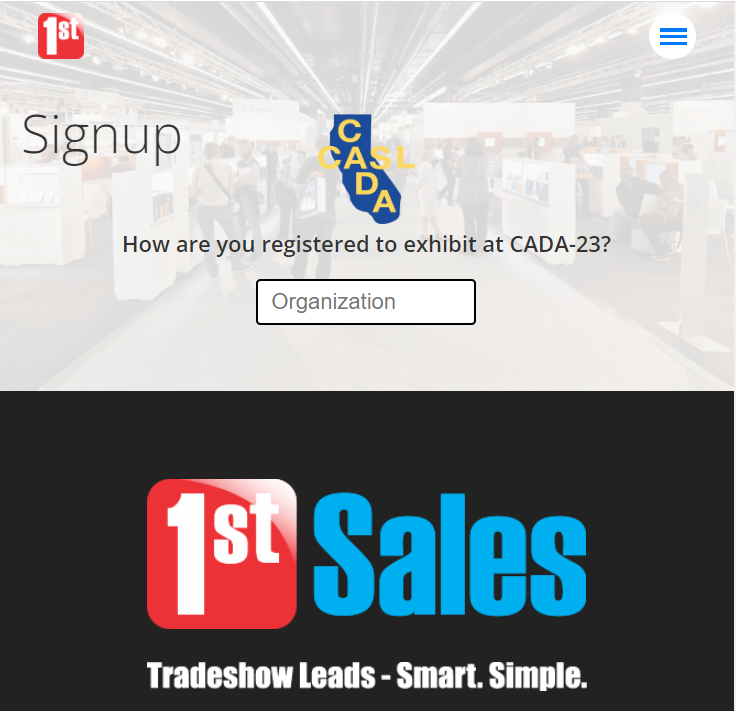 1st Sales Lead Retrieval will be back again providing their mobile friendly version services at the 2023 CADA Convention!
• Mobile Scan - no booth power required
• Extensive lead qualifications included
• Note taking supported
• Leads/appointments in Excel and/or Outlook the day after the show ends
• Full contact record including email addresses
• Your company profile emailed post conference to your prospect
Click Here to view and download information
Click Here to order!

---
EXPO SERVICES - TOTALEXPO
CADA has contracted with TotalExpo for expo services this year.
EXPO KIT
Download the CADA 2023 Exhibitor Kit Now!
Submit your order online! | CADA Show Code: CADA23
Discounted Rate Deadline: Tue, February 14th, 2023 by 4:30pm. After this date all orders and payments will be processed at the regular rates.
Online Ordering Ends: Tue, February 21st, 2023 by 4:30pm. After this date orders can be placed via email or fax
SAN DIEGO UNION CODE
Please review the Expo Kit (page 20) even if you are not planning on using their services. San Diego is a union labor area with strict union labor guidelines in regard to the setup of your booth, please ensure you are aware of all the restrictions before you arrive and are not surprised with additional fees.

Decoration: Exhibits and Displays
TotalExpo Inc. and it's Union Affiliates have the jurisdiction for the erection, clean up, dismantling, repairing and building of all exhibits and displays. These exhibits can go from floor to ceiling, and include headers; floor covering of all kinds; aisle covering; hanging of decorative material from the ceiling; painting and hanging of all types of signs; pictorial and scenic paintings; changing electric light bulbs in exhibits; repairing of all animation; hanging and mounting all electrical fixtures. Use of ladders is exclusive to the Union workers. If the below requirements cannot be met than all work must be done in conjunction with proper union personnel. Labor should be ordered per the Install and Dismantle Labor Order form. Exhibitors shall be permitted to work with a union worker on a one-to-one basis, provided that person is a permanent employee of the exhibiting company. This rule does not mean casual workers, a worker hired from an employment agency (temporary workers), a non-union display or decorating company.

Exhibitors may install or dismantle their own exhibit if it meets the following requirements:
Tools and/or ladders are not required.
The work can be completed by exhibitor and NO MORE than (1) one full time employee of exhibiting company.
The work can be completed within (1) one hour total. (The work may NOT be split between (2) two or more people to meet the time limit.)
These rules do not apply to the exhibiting company's product/merchandise, literature, stocking shelves, unpacking, and packing, etc. as long as product is not part of the exhibit or construction of exhibit and workers are full time permanent employees of the exhibiting company.
---
CADA 2022 Booth Decoration Contest Winners:
Two Categories: Single Booth & Multiple Booths
• 1st prize – 50% off booth for next convention
• 2 runner ups – 25% off booth for next convention
MULTIPLE BOOTH DECORATING CONTEST WINNERS
Multiple Booth First Place: Art Specialties
Multiple Booth Runner Up: ASB Works
Multiple Booth Runner Up: First Class Events
questions
CADA Central
events@cada1.org
Call/Text: 831.464.4891