MARCH 6-9, 2024
GRAND SIERRA RESORT - RENO, NV
REGISTRATION NOW OPEN!
---
---
BOOTH PRICES
Member First Booth
$1,300
Member Additional Booths
$1,250
Non-Member Booths
$2,300
$100 Late fee/booth if booked after December 31, 2023
Not a member? Check out Affiliate Membership information.
Fee is based on Sales to CA Schools per year.
Exhibitor Booth Set Up Agreement & Guildlines
Don't get caught onsite with set up issues, send us your booth design in advance!
---
WHAT IS INCLUDED with your booth
Carpeted 10' x 10' x 8' foot tall fully draped booth
One 6' table, 2 chairs, wastebasket, & ID Sign
Two booth representatives per booth
One 500-watt electrical outlet will be provided for booths sold up to 30 days prior to the convention
Access to an electronic list of attendees before & after the conference excluding email
Full company contact information listed on the Virtual Floorplan on our website for attendees to preview prior to arriving at the conference
Discount opportunities for winning the booth decorating contest
Access to social events, all workshops & sessions
---
PAYMENT POLICY
Your booth(s) will not be booked until full payment is received. All funds must be received 30 days after date of registration. Any registrations with unpaid balances after 30 days will be cancelled and you will need to re-register.
---
Exhibit Schedule & Show Times
Sample Schedule
WEDNESDAY
1:00pm – 6:00pm: Exhibitor Registration/Exhibitor Setup
THURSDAY
8:00am – 11:00am: Continue Registration & Setup
11:30am – 12:30pm: New to Convention Attendees
12:30pm – 2:30pm: All Attendees
6:00pm – 9:00pm: All Attendees (Dinner Served in the Hall)
FRIDAY
9:30am – 11:30am: All Attendees
11:31am Teardown

Schedule subject to change
---
LEAD RETRIEVAL SERVICES PROVIDED BY 1stSALES

1st Sales Lead Retrieval will be back again providing their mobile friendly version services at the 2024 CADA Convention!
• Mobile Scan - no booth power required
• Extensive lead qualifications included
• Note taking supported
• Leads/appointments in Excel and/or Outlook the day after the show ends
• Full contact record including email addresses
• Your company profile emailed post conference to your prospect
Click Here to view and download information
Click Here to order!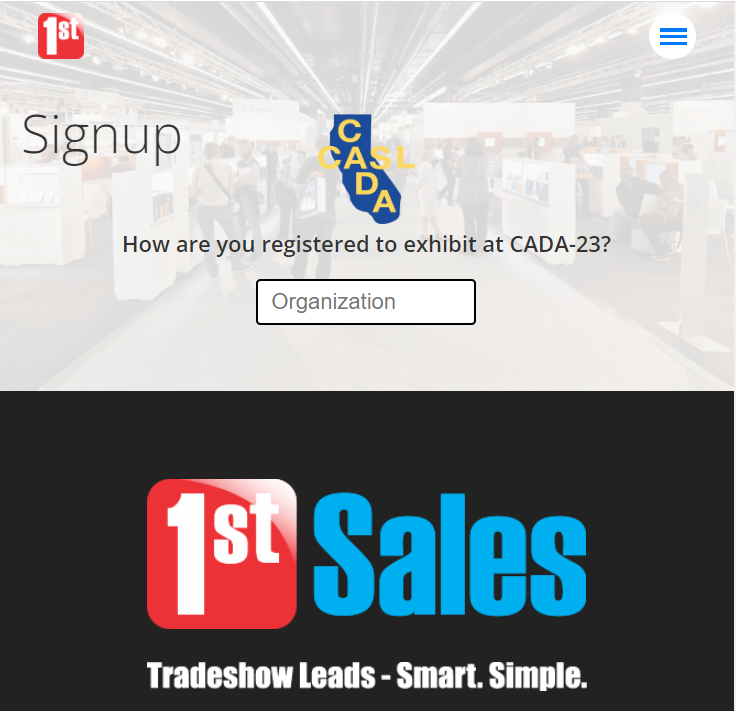 ---
CADA 2023 Booth Decoration Contest Winners:
Two Categories: Single Booth & Multiple Booths
• 1st prize – 50% off booth for next convention
• 2nd runner ups – 25% off booth for next convention
single BOOTH DECORATING CONTEST WINNERS
Single Booth First Place: The Amazing Tei Street
Single Booth Runner Up: Backdrops Beautiful
Single Booth Runner Up: Work2BeWell
MULTIPLE BOOTH DECORATING CONTEST WINNERS
Multiple Booth First Place: Lifetouch
Multiple Booth Runner Up: ASB Works
Multiple Booth Runner Up: SOS Entertainment
questions
CADA Central
info@cada1.org
Call: 831.464.4891